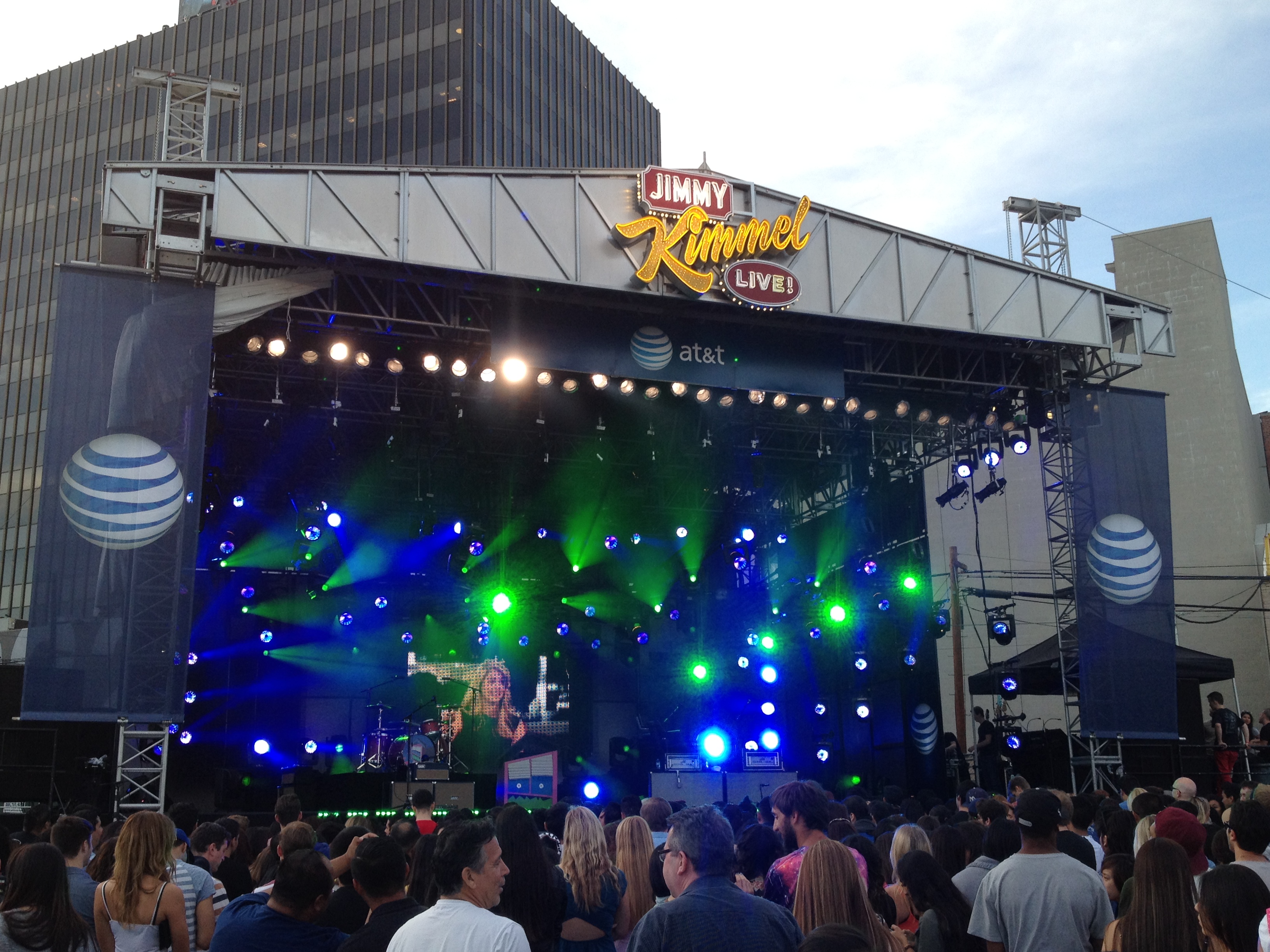 The great thing about living in the LA area is that, if Neon Trees is performing on the Jimmy Kimmel Live! show, you can just show up and get a private outdoor concert for FREE.  Yes, both the Jimmy Kimmel Live! Show and the concert series are free!
My friend had an extra ticket so we decided to drop by.  Why not?  I'm a big Neon Trees fan, and an even bigger fan of Tyler Glenn's dance moves.   I walked past Tyler taking pictures with a fan on the back lot of the Jimmy Kimmel Live! show. I called out "Yo Tyler!"  He walked over toward us a bit, and I added "I'm here for the dance moves!"  Tyler chuckled, "You'll get dance moves" and was then swarmed by paparazzi.
And yes, Tyler brought the moves.
Other guests on today's show? Jonah Hill and Channing Tatum came to promote "21 Jump Street" while Kate Upton was on promoting "The Other Woman" movie.
Here's the whole Neon Trees mini concert, recorded in 1080p for y'all.  Jimmy Kimmel only showed the first song "Sleeping with a Friend," which is Neon Trees' hit single right now.  They band was on to promote the release of their album "Pop Psychology."
1. Sleeping with a Friend
2. Lessons in Love
3. I Love You (But I Hate Your Friends)
4. Animal
5. Everybody Talks
---
About this entry
You're currently reading "Neon Trees Private Outdoor Concert at Jimmy Kimmel Live! April 9, 2014," an entry on Jeffrey Lin's Official Blog (JeffreyLin.com)
Author:
Published:

04.09.14 / 11pm
Category: