Never did I imagine the names "Taylor Swift," "VH1," and "Harvey Mudd College," my alma mater, would appear in the same news headline.  The top-ranked engineering college, and thus NERDIEST college, I'm proud to say, wins a private concert with Taylor Swift? or as the Teenyboppers call her, "Tay Tay"?  And to beat out our SoCal nerd rivals CalTech, who claimed 5th place?  Yes. You go Tay Tay.  Make our tiny college of only 2-blocks the coolest nerd school ever.
This private performance is going down next MONDAY, OCTOBER 15, 2012, and airing on VH1 in November.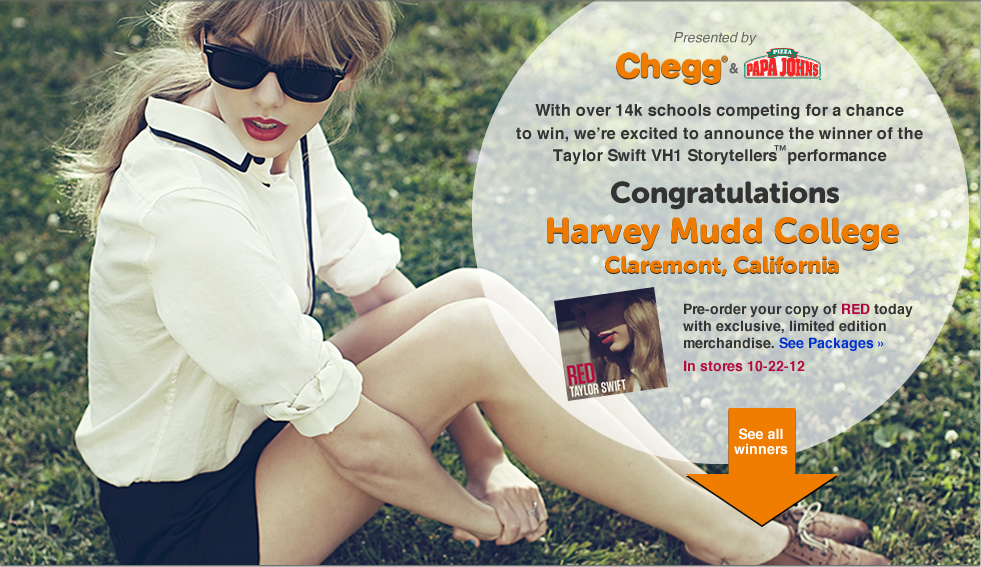 So apparently, two Mudders enterered this "Chegg for Good Music" grant that Taylor Swift partnered up with, the winner of the contest wins $10,000 and a Taylor Swift performance.  Early that day when it was announced (Oct. 1st, 2012) That's all I thought it was, a performance.  But it turns out it's not just any performance.
Immediately Facebook, twitter, and my entertainment news feeds were filled with "Taylor Swift" and "Harvey Mudd" in the headlines as well as "VH1 storytellers."  This private performance turns out to be Taylor Swift filming her "VH1 Storytellers" concert at Mudd.  Hey, if you want a small, or tiny, intimate setting to do a storytellers performance, Harvey Mudd's got the "tiny" part.  Intimate? I don't know.  I mean, we do have one of the ugliest block buildings campuses ever.  I can't believe  Tay Tay really saw our campus' pictures and said she wanted to come play here, but alas, she is.  And it's all over the radio for special limited tickets for this performance.  They're giving away tickets for promos while us Alumni and even the staff don't get to go to this limited seating event.
But about the tiny campus thing.  Probably the reason we won.  This competition was based on PERCENTAGE of enrolled students who responded, which given how just about everyone lives in the dorms and can probably get on each other's computers, we won.
So, score one for Mudd in the "cool" column, as we've already racked up tons of points in the top graduate salaries columns, most PhD %, right up there with the best Ivy league schools.
More Links about this event:
Taylor Swift Serenades Harvey Mudd College
---
About this entry
You're currently reading "Taylor Swift is Coming to Harvey Mudd for VH1 Storytellers!," an entry on Jeffrey Lin's Official Blog (JeffreyLin.com)
Author:
Published:

10.13.12 / 11pm
Category: